Dream bedroom inspiration – what's your style?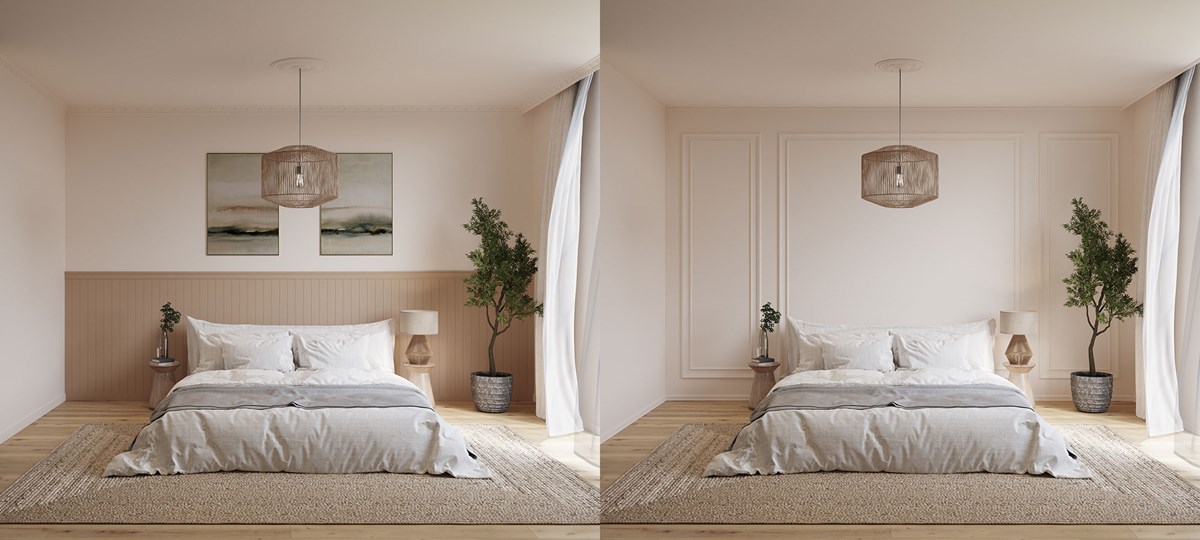 Getting your bedroom vibes just right is about as important as it gets when it comes to feeling well in your interior. Having a space where you feel comfortable to rest and relax after a long day is in fact absolutely essential.
So, keep scrolling because we are about to drop some top-notch inspiration and review some trendy interior styles to help you create the bedroom of your dreams with our decoflair profiles.
Classic Scandi fusion
With its neutral, light and almost monochrome colour palette, minimal and functional approach to decoration and integration of natural materials such as wood and jute this cozy bedroom certainly has a Scandi feel to it. The long frames made from our D6 and CL2 chair rails provide a classic accent for this space, which turn out to be essential to the room's character. The large frames also accentuate the wall's height, which combined with the abundance of natural light, give the room a spacious feel. There is also a strong sense of coherence and fluidity in this bedroom with the shape of the C4 skirting reflecting that of the panelling.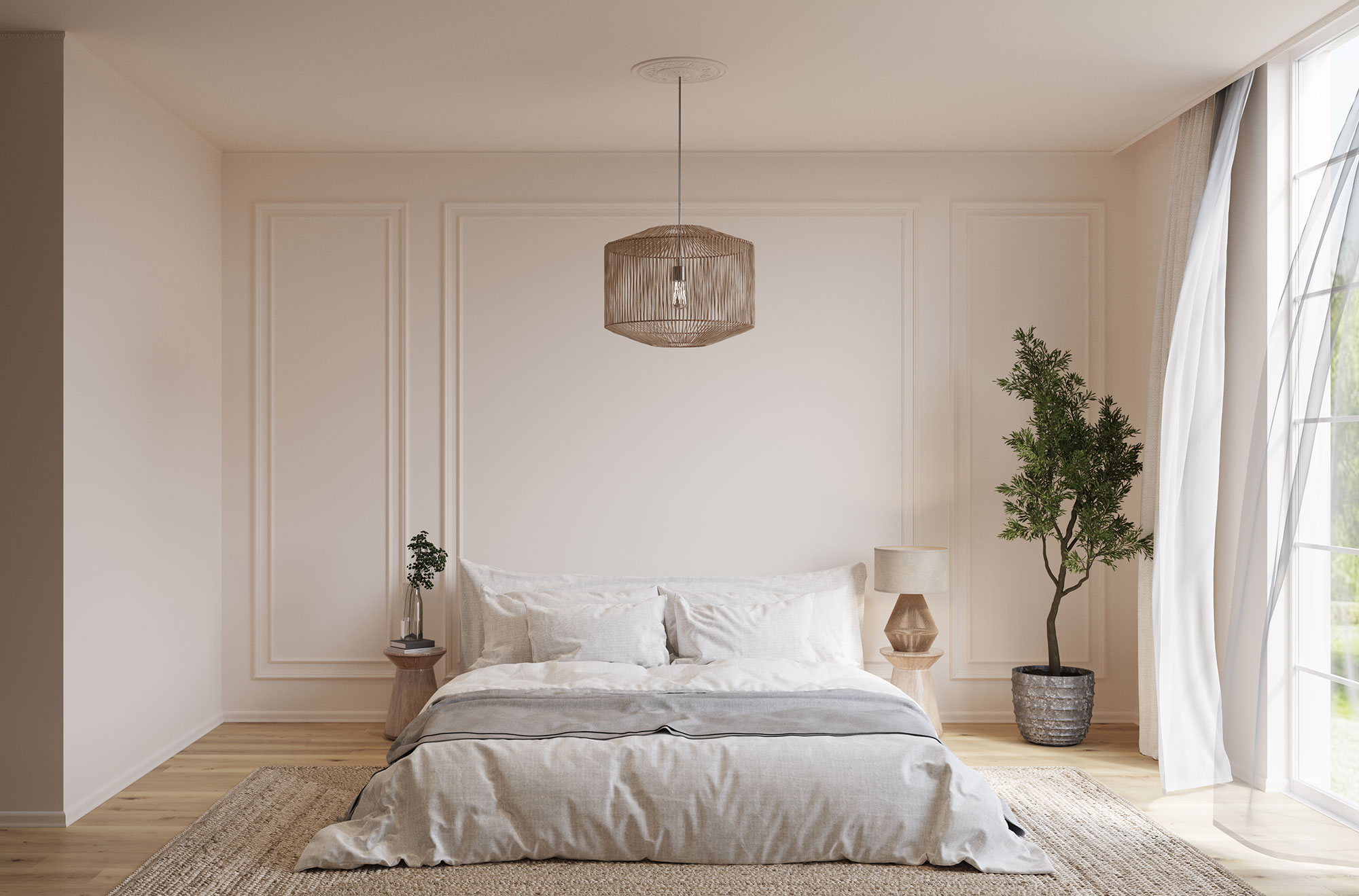 Japandi style panelling
There is a true sense of calmness and serenity about this bedroom, which is essential to Japandi style interiors. You can read more about it in our piece about the Japandi interior trend. The recurring, vertical and clean lines provided by our CO2 chair rail give the room a satisfying sense of symmetry and balance. The green pastel colour tone and houseplant also bring some freshness as well as giving the space a comforting natural feel.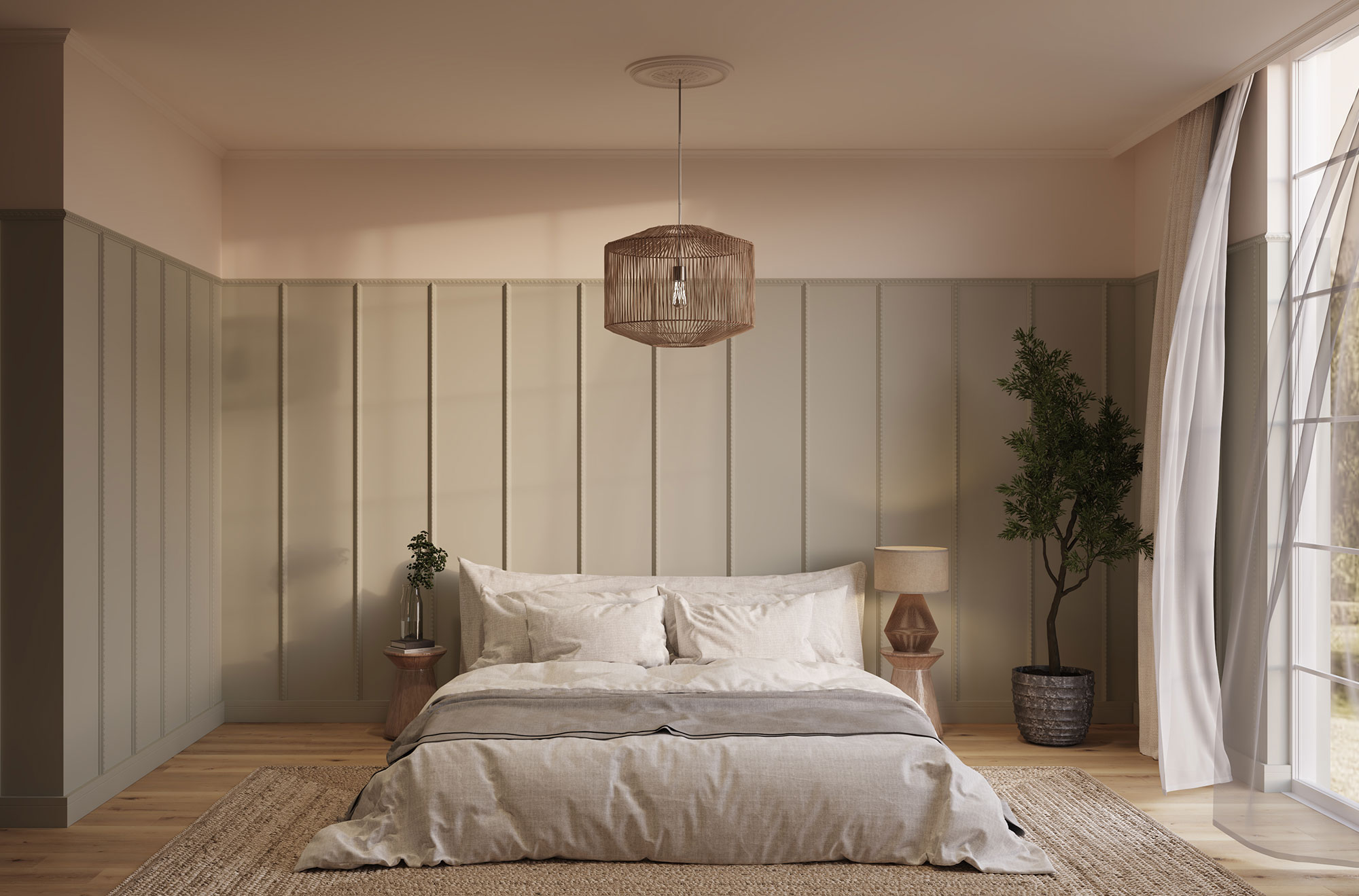 Modern headboard panelling
In a more contemporary style, this iteration of the bedroom incorporates the OCEAN wall panels as a characterful modern headboard and the CL14 lighting profiles to give the room that extra touch of warmth and comfort. Whit its wavy surface, the OCEAN wall panels provide the wall with texture, turning it into a masterful centrepiece. The C12 skirtings form a characterful but not too overbearing finish to the floor.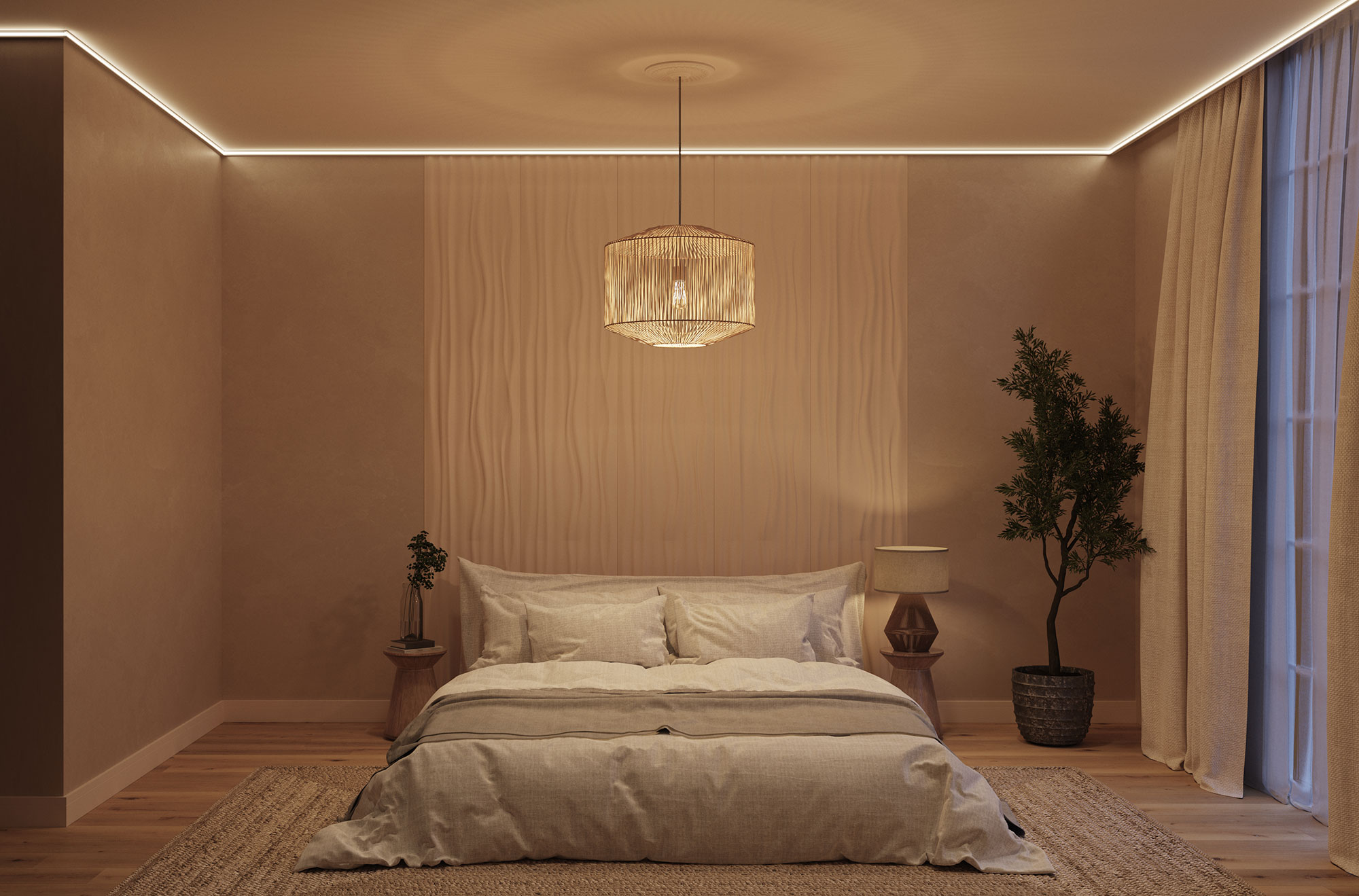 Cottage style wainscotting
There's nothing quite as warm and comforting as a traditional country house interior. This bedroom featuring our CP1 and CL13 wainscotting profiles feels like it's been picked straight out of a classic British cottage. No need for the wainscotting to go all around the room for a good result, as you can see in this picture. You can find out more about our wainscotting profiles in our article about this popular interior trend.
Minimalistic classic wall decor
Sometimes it only takes a small detail (or in this case, a chair rail) to completely elevate a room. The ornate yet slim CO1 chair rail, discretely makes its way around the room to create a characterful wall partition. In this setting, the chair rail also facilitates the creation of a two-coloured wall, enabling smooth and clean transition from one colour to the next. Find out more about how to best use your chair rails for characterful wall decor in our article. The room also incorporates the D7 cornice featuring a clean and minimal design to give the room an discrete yet important finishing touch.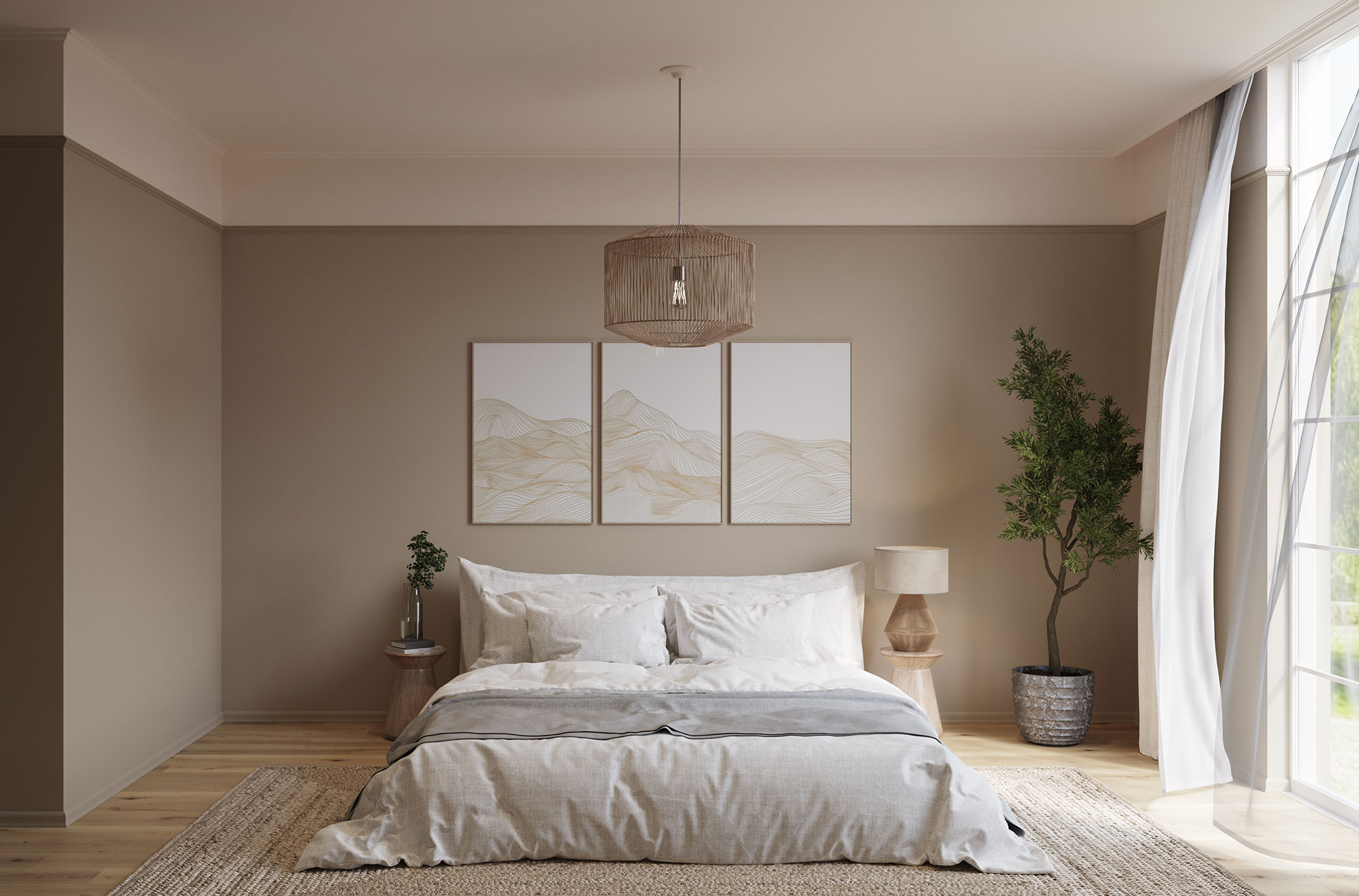 Wall centre piece
Who said ceiling roses had to be installed on the ceiling? In this playful set-up, four of our B22 ceiling roses were combined to create an artsy centrepiece behind the bed. By keeping this feature centred and symmetric without overloading the rest of the wall and keeping the surrounding decor uncluttered, it works as an effective eye-catcher.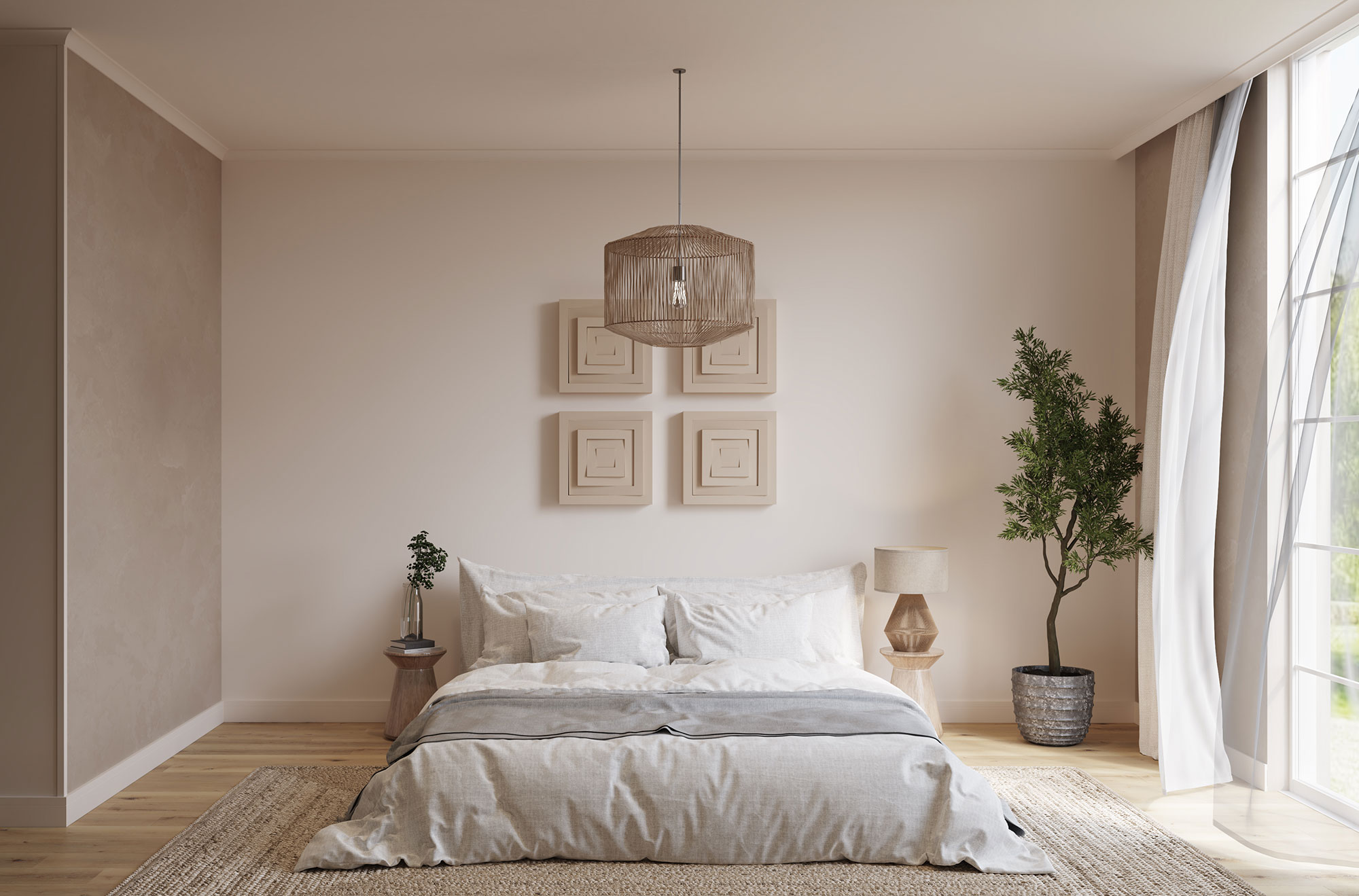 Shaker style wall panelling
Shaker style interiors are based on a "keep-it-simple" design philosophy with a strong emphasis on symmetry and geometry. Strong lines are thus integral to shaker interiors, to provide spaces with structure and order. In this bedroom, the large, smooth and flat C9 chair rails create a stunning coffered wall effect giving the room some added depth and visual interest. The cubic and angular design of the CBC2 skirting also emphasizes the room's pronounced lines and strong geometric features. The square pattern in the panelling is an absolute classic of shaker style interiors.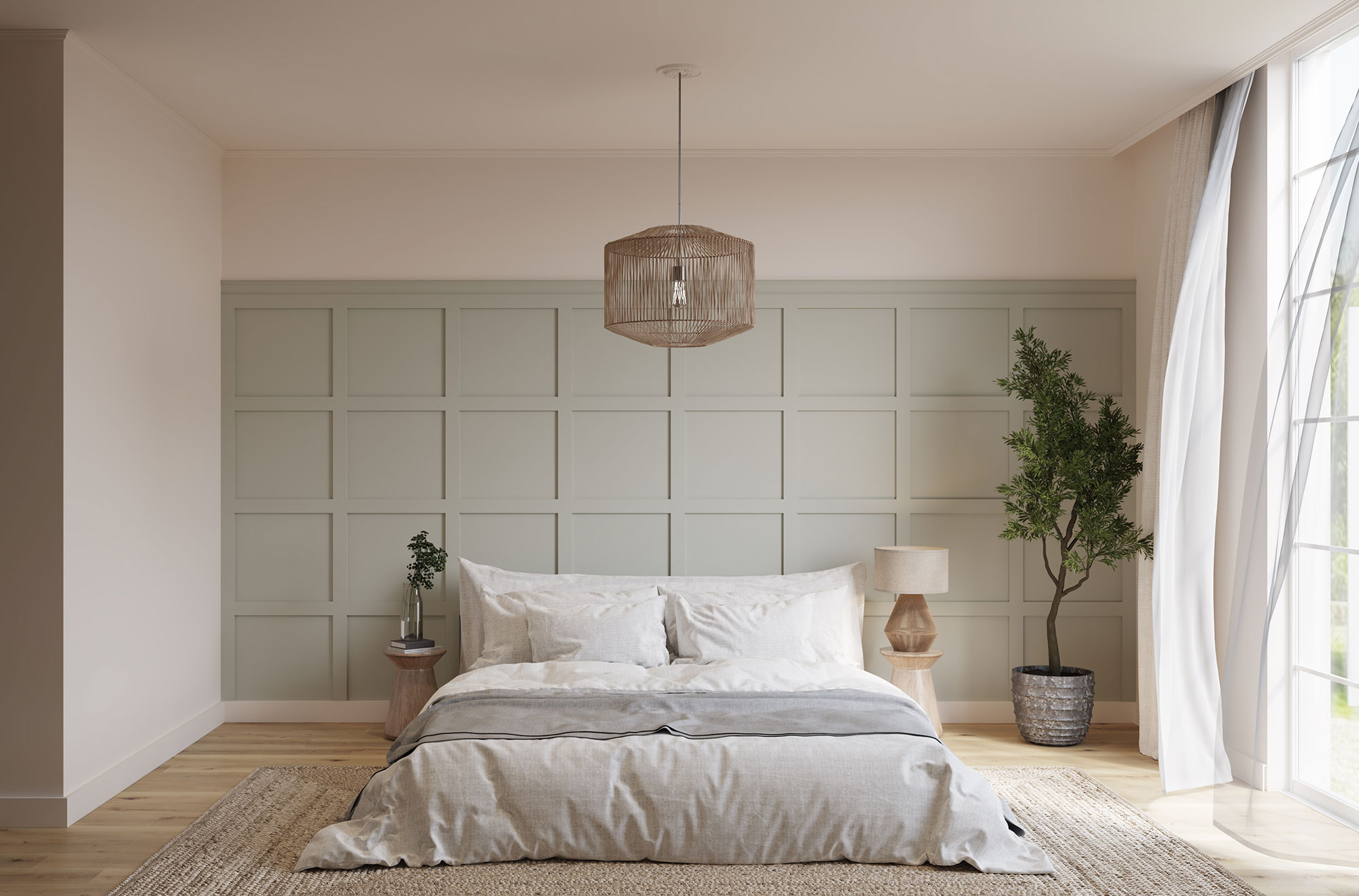 Brutalist French wall panelling
This unusual decor features an interesting blend of brutalist flair through the lime wash wall finish and the classic French panelling. Even though these two approaches to interior design seem radically different, this set-up presents an efficient balance that works astonishingly well. The CL1 chair rails are painted in the same colour as the wall to seamlessly blend in and are installed in frames that are typical of fancy Haussmannian interiors, with the ornate M72 ceiling rose also emphasizing this classic Parisian flair.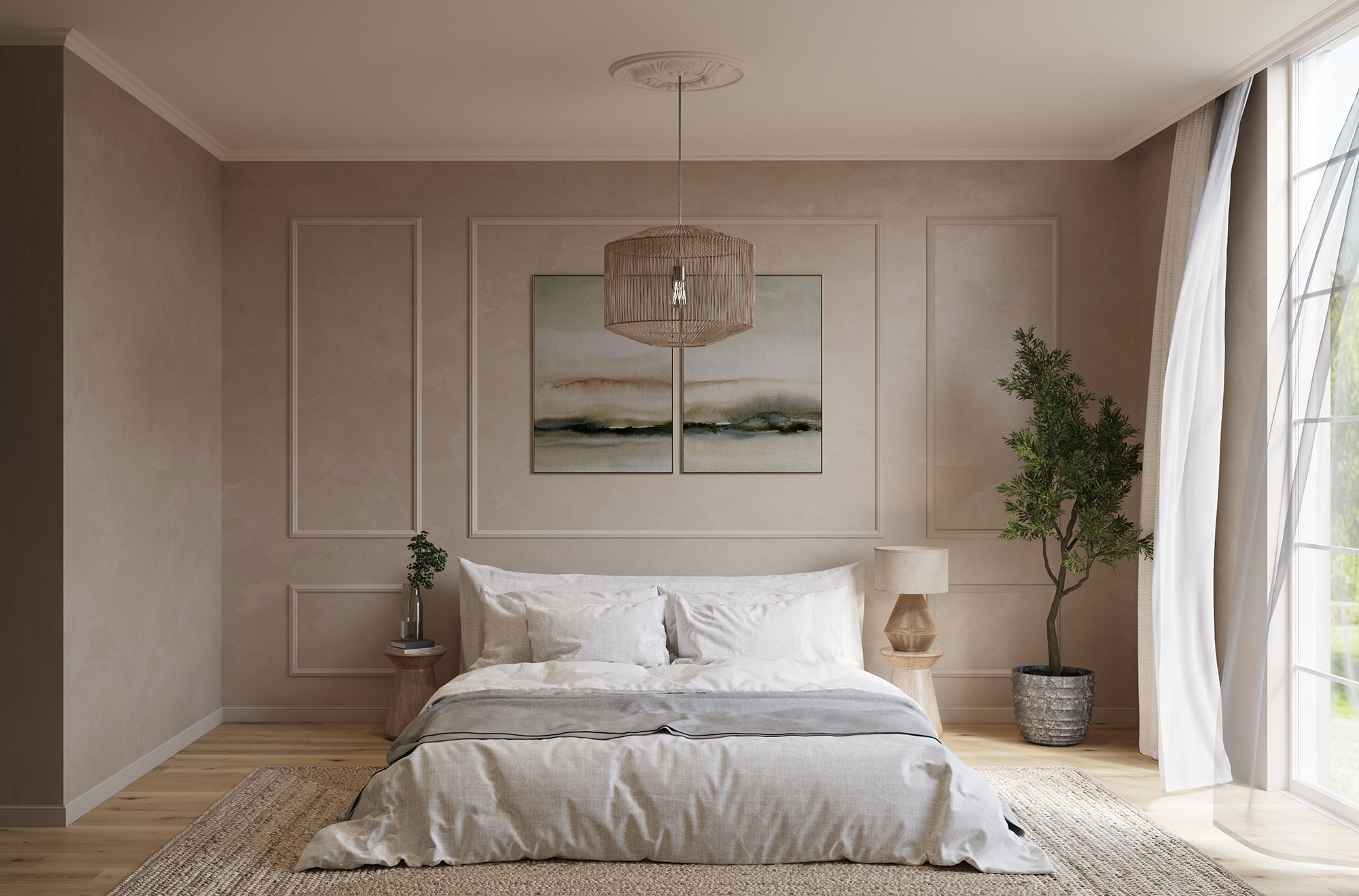 And you, what is your favourite bedroom style? Drop us a comment on our Instagram post!