Bringing cottage vibes to your home – a closer look at our wainscotting profiles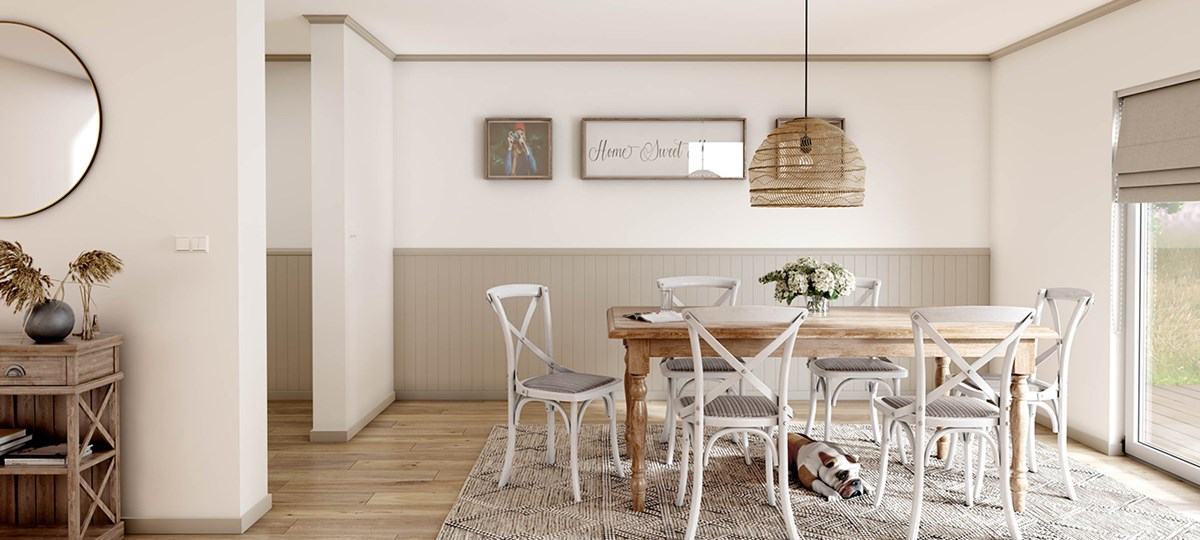 This article focuses on the elegant and on-the-rise solution of wainscotting. Wainscotting is a form of panelling that usually extends to the lower third or half of a wall and circles all around the room perimeter.
Traditionally, wainscotting served a rather functional purpose, protecting walls from damage whilst providing little added insulation. Nowadays however, this solution is more often than not employed for its aesthetical benefits and the charm it brings to a given space. Indeed, wainscotting displays can be quite reminiscent of cosy and warm country homes or even traditional British cottages.
Classic wainscotting is usually composed of a skirting mounted with a set of vertically placed boards topped off with a horizontal chair rail to seal the deal. Since we really love wainscotting and picked up on the trend, we also have products in our range for you to do it yourself in your home. Indeed, combining the C12 or C9 as a skirting with the CP1 to complete the board section and the CL13 to finish it off, you can obtain the perfect wainscotting set up.
Since wainscotting installation is pretty straightforward (you can check out our skirting and chair rail installation videos if you need a little help), we decided to take a closer look at the profiles that compose this trendy solution and see what makes them special.
The base
Every wainscotting set up needs a good skirting to get off to a solid start. Preferably, go for a skirting with a right angle to get that signature shiplap look. For this you can obviously use our C12 skirting but we have another trick up our sleeve if you're looking for a profile with a more sober finish. Indeed, our C9 profile may be classified as a chair rail (we have also used it that way in other articles) but it is also perfectly suited to be used as a skirting as you can see in the pictures below. Its rectangular design and high-density polymer material make it shock and water resistant, which all adds up to a perfect skirting solution. This comes to prove that you can really get creative with our decoflair product range and go beyond the profiles' "intended use" to come up with something quite unique.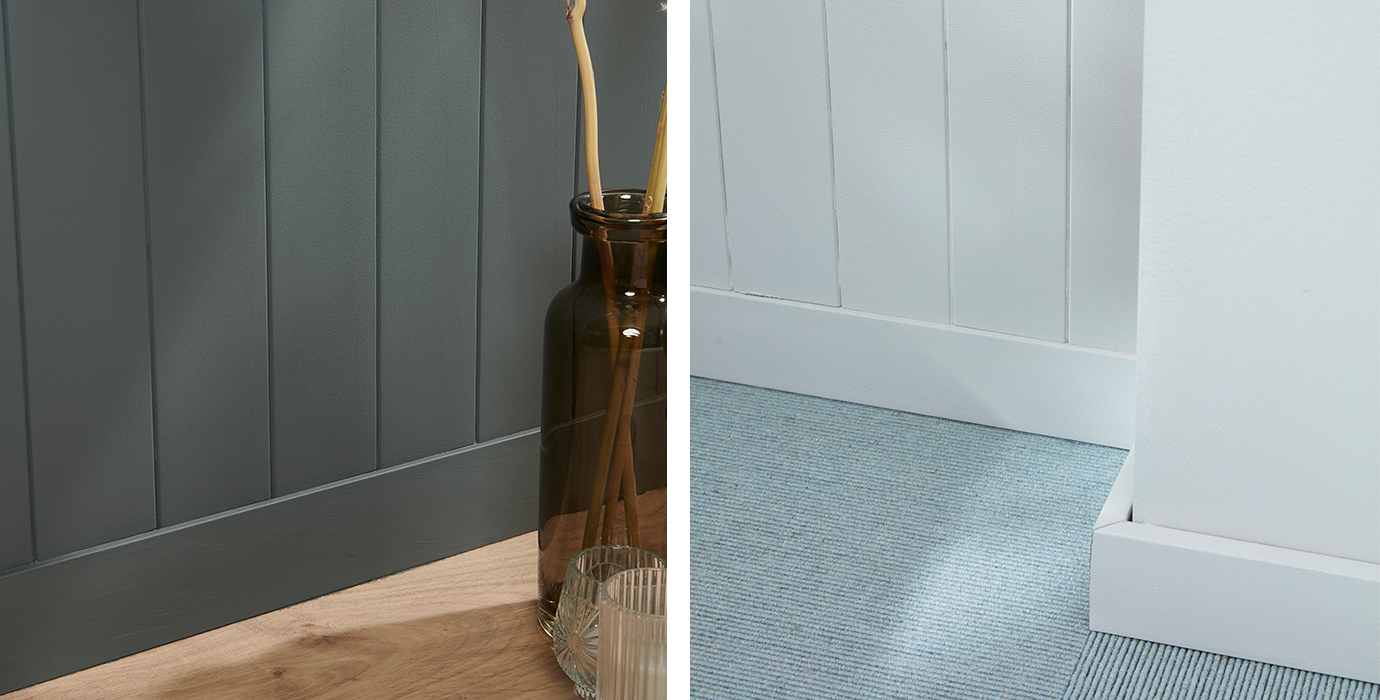 The body
Certainly the most important and visually impactful part, for as without the boards, there is no wainscotting. Our CP1 profile was designed to perfectly hit that sweet spot and achieve that classic wainscotting set-up. Other than the clear aesthetic added value the boards bring, they are also ideal for renovation projects, covering up damaged patches and protecting walls from future impact. The product's specific design guarantees a stable installation with its "peg and plug" system that allows for a harmonious and orderly appearance. Moreover, the CP1 boards are sold in 5er packs so you can cover a fair amount of wall with each pack you buy, and they are cut at 1.22m meaning they slot in nicely between 1/3 and ½ wall hight in most rooms. To guarantee a good installation, apply two strips of glue at the back of each board before fixing it to the wall.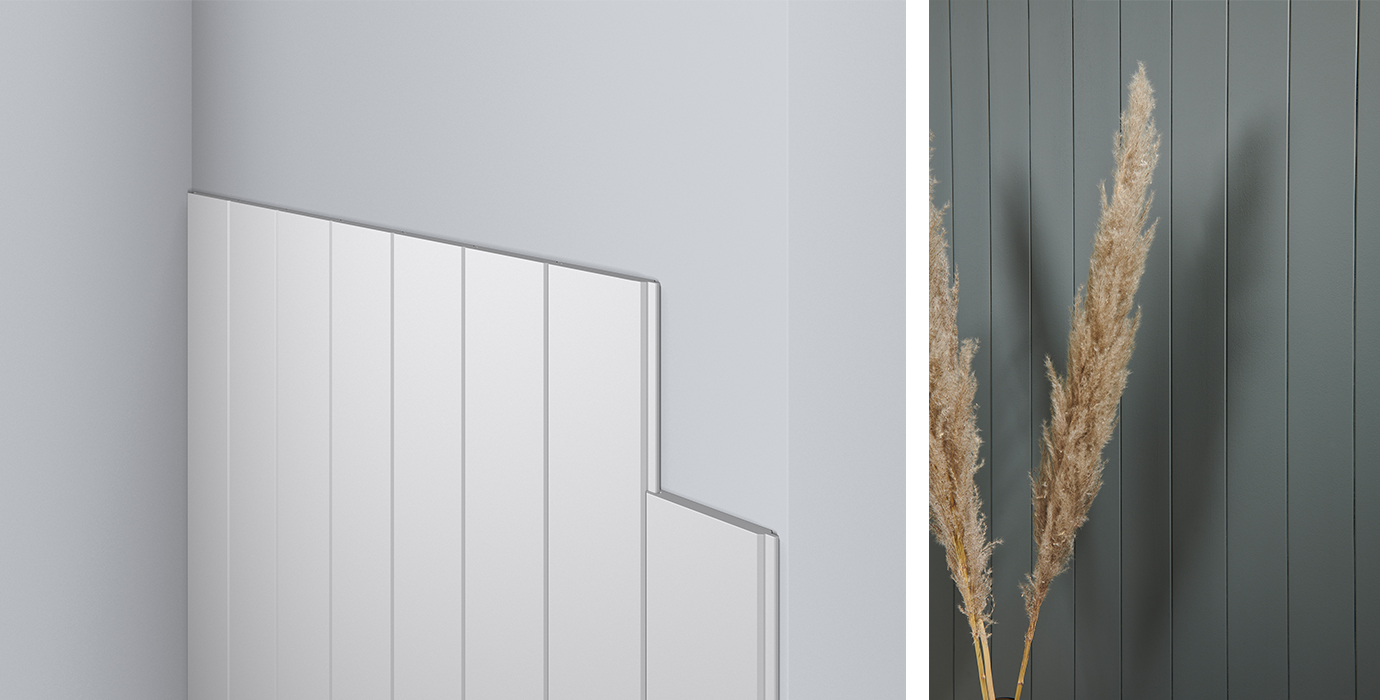 The finish
In order to achieve a natural and refined finish to your wainscotting we advise you to cover up the top part of the boards with a nice chair rail to get a smooth transition to the wall. Once again, we have a versatile profile that can do the job. The CL13 is actually classified as an indirect lighting profile but in this case, it works perfectly well to give the wainscotting a custom and slick finish. Yet another example of the products' high versatility. As you have certainly noticed in the pictures, you can also paint all the mentioned profiles in the colour of your choosing so you can personalise and adapt them to your interior and style.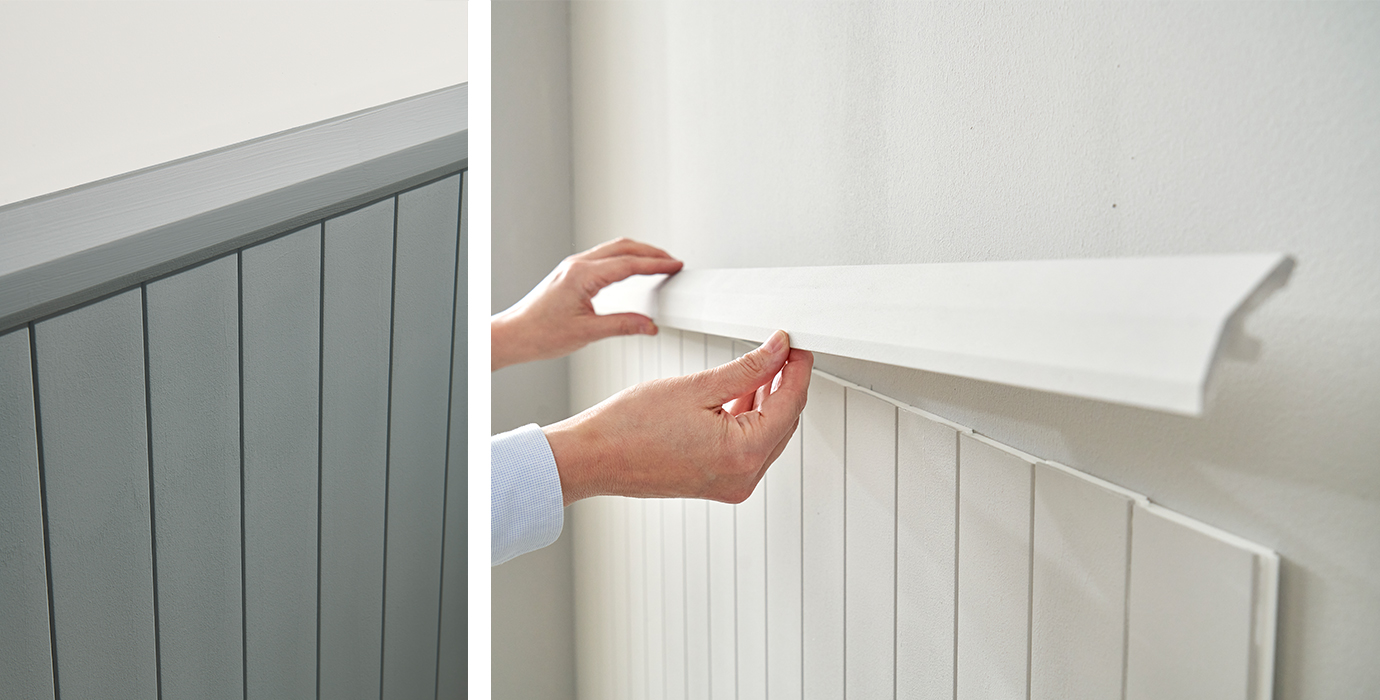 Associated products
Skirtings
2000 mm x 110 mm x 15 mm (2 m / pack)
Chair rails
1220 mm x 79 mm x 10 mm (6 m / pack)