CP1 decoflair Chair rails
Dimensions (LxHxW):
1220 mm x
79 mm x
10 mm
Material: Extruded high-density polymer
Price per metre: 6.50 €
Quantity / pack: 6 m
Advantages of Chair rails CP1 decoflair:
100% waterproof
Shock resistant
Fully recyclable
Easy to install
Description
When painted in white, the CP1 elegant wainscotting adds a countryside, cottage-like feel to your interiors. For a bold approach, paint the CP1 in a contrasting colour to the wall and surrounding features.
Perfect for DIY projects, the CP1 is pre-cut to the ideal height and instantly transforms the look of a room. Combine the CP1 with the CL13 chair rail and C9 skirting board to finish the look.
Constructed with durable high density extruded polymer, the CP1 is lightweight yet highly impact-resistant and 100% waterproof. No time-consuming sanding and just one coat of paint is enough. The finished primed wainscoting is fixed with glue before painting. Unlike wood, the robust solid material does not warp, is splinter-free and takes your chosen coat of paint evenly.
Associated products
Lighting profiles
2000 mm x 55 mm x 18 mm (2 m / pack)
Glues
68 mm x 235 mm x 48 mm (1 pc / pc)
Tools
350 mm x 150 mm x 150 mm (1 pc / pc)
Relevant articles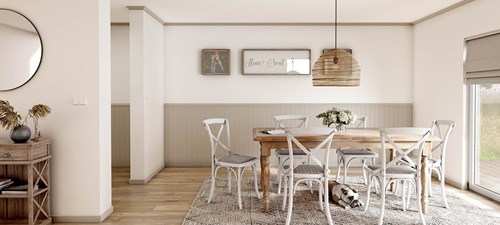 Bringing cottage vibes to your home – a closer look at our wainscotting profiles