5 ways to make the most of your chair rails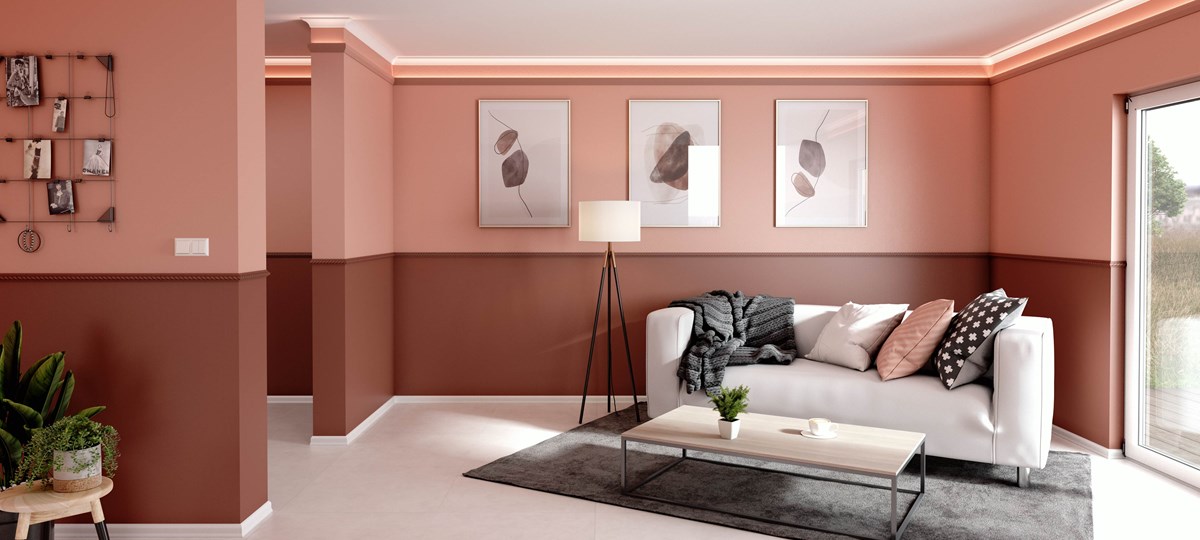 When it comes to giving life to your walls, chair rails have so much to offer. They are certainly the most versatile profiles as they can be used and combined in many different ways to make your walls and interior unique.
Classically, chair rails were installed to protect walls from damage incurred by chair backs and other furniture (which is where they get their name from). For protective and practical purposes, they were thus fixed to the wall at around chair height.
Today however, chair rails have moved away from this to serve a more decorative purpose. Chair rails unlock a lot of creative potential and help fulfil the need to truly personalize interiors. In this article, we will show you 5 interesting ways to use chair rails so you can give your rooms that something extra.
Panel moulding
Perhaps an obvious first choice due to its popularity. Often associated with classic interiors, panel mouldings are actually back in trend making their way into more modern and Scandinavian interiors too. As you can see in the image, painting the frames in the same colour as the wall will not make them too much of an aggressive stand out feature but will lightly and elegantly give your wall some texture and structure. Longer frames such as in the image here will also give an impression of extra height added to the wall. Decoflair products such as the CL1 here are easily installed (check out our installation videos to see how) and can be painted immediately in the colour of your choice.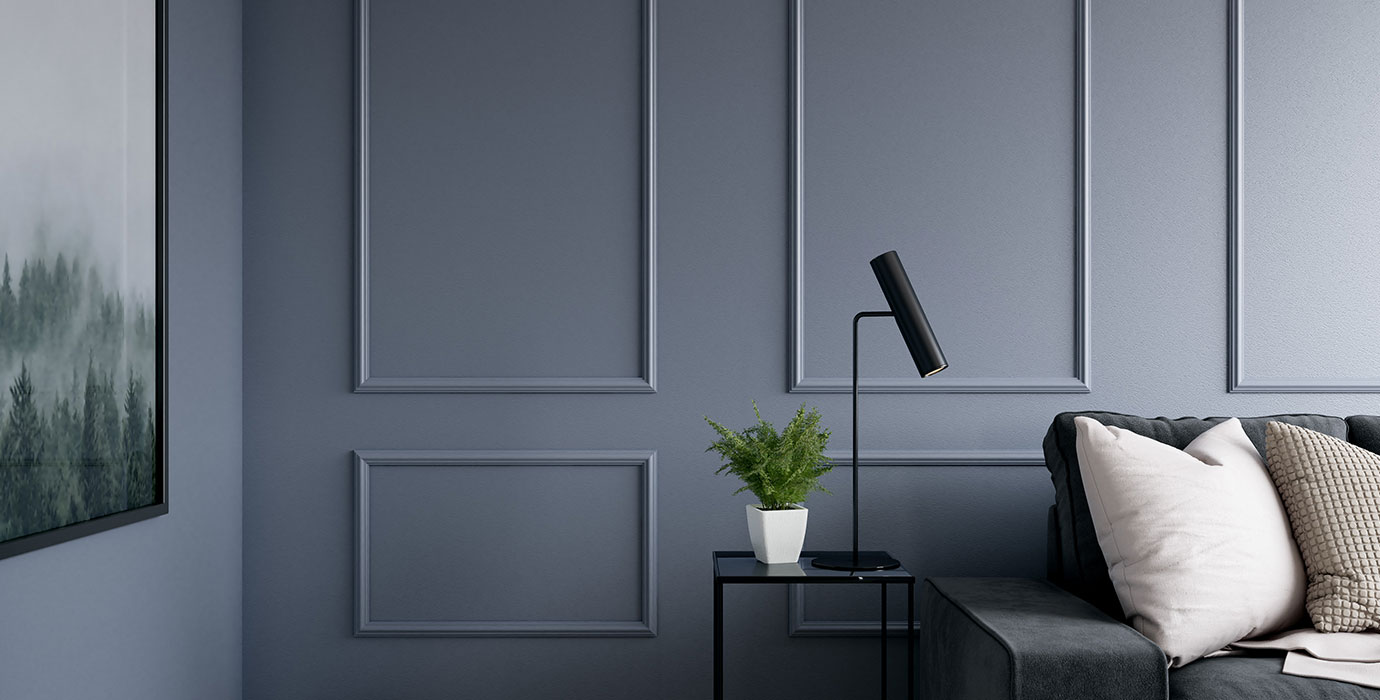 Mixing and matching
Breaking up your wall into two sections using one chair rail and decorating one part with another kind or style of chair rail is something that can also work well. The combination possibilities are almost infinite. In this example, the ornate and more classic F19 chair rail interestingly complements the sober and sleek panel mouldings made of the CL1. Topping it all off with a contrast in colours, makes this a truly unique wall display and a room full of personality.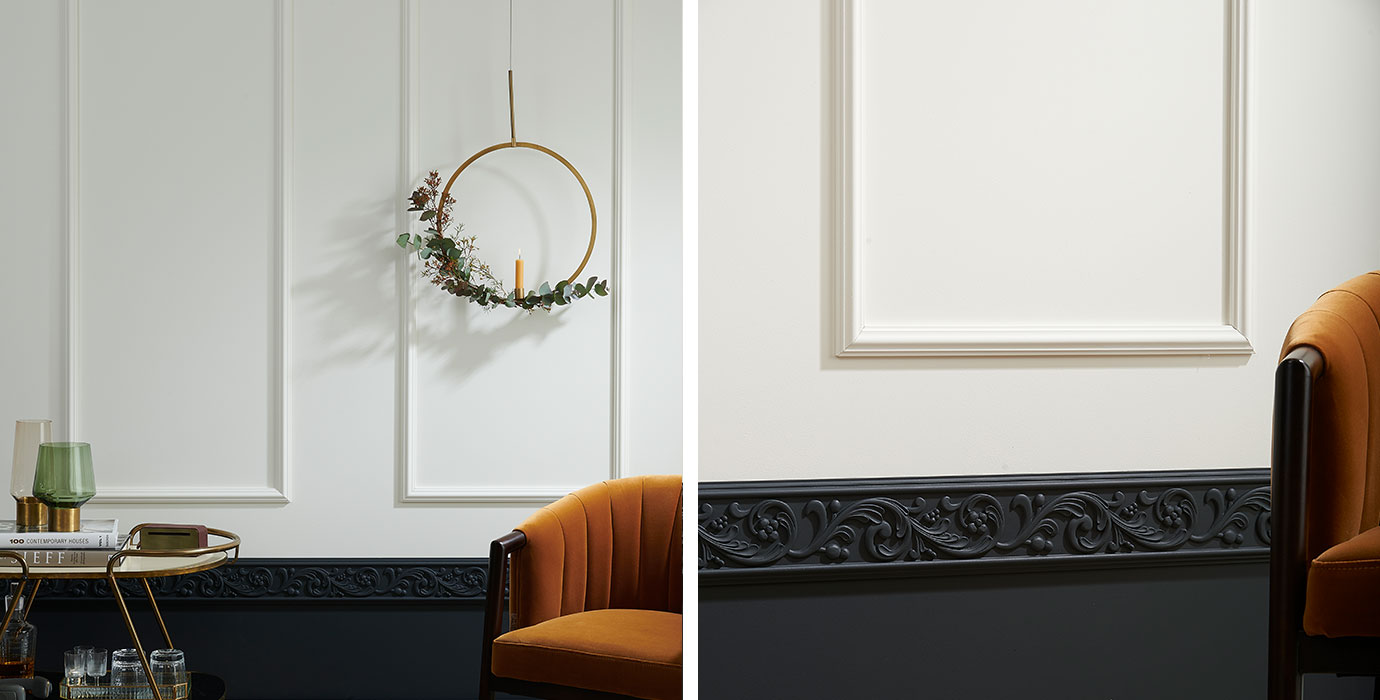 Creative geometric set ups
The great thing about chair rails is that you can let your imagination run wild. Even though they can easily ad smooth and discrete touches to your interior, they can also be used for more daring and eccentric ideas. Creating a unique geometric design such as that featured in the image, can really contribute to giving a room a strong personality. As you can see, combining chair rails with other products is also an option. The interesting pairing of the CO2 chair rail and M60 design element here really gives the wall a custom made and sophisticated look.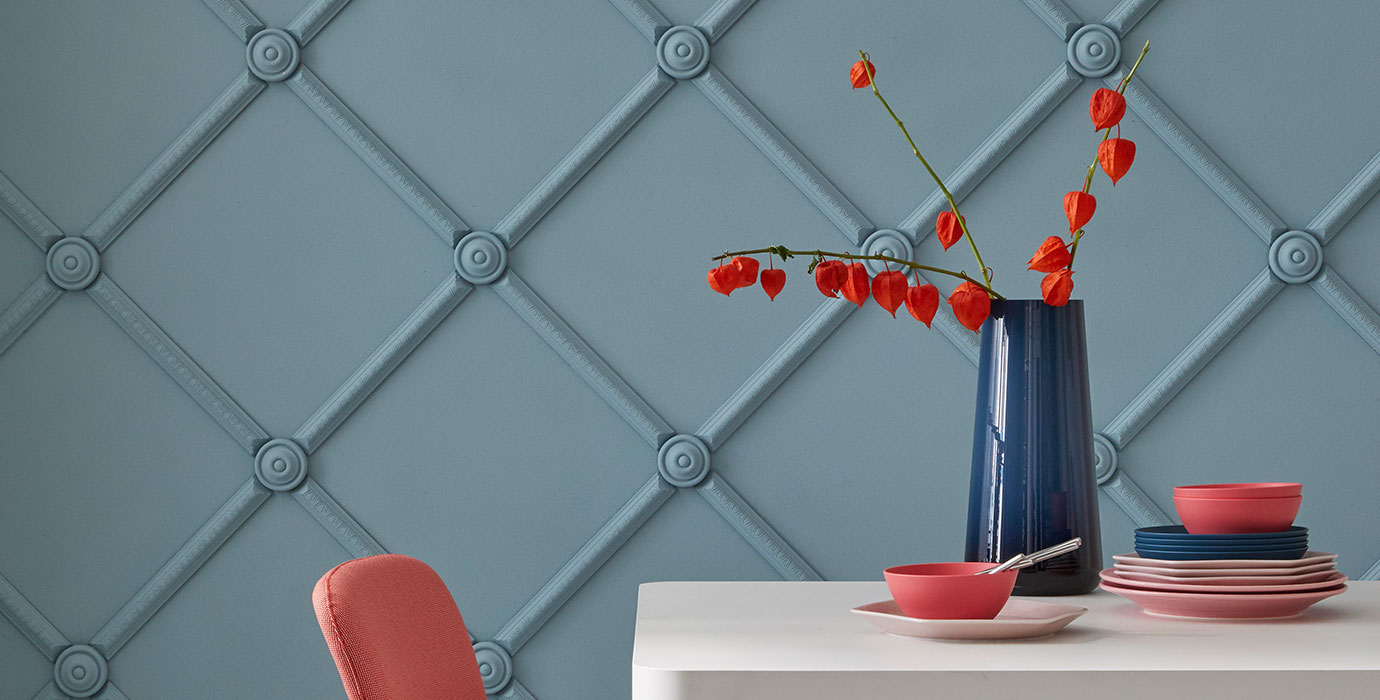 Two-coloured walls

Getting a two-tone wall right can be quite tricky. But using chair rails to break up your wall into two distinct fields can really help in this regard and make the transition from one colour to the next look more natural and clean. Breaking the wall into different sections can be done at different heights, according to what kind of effect you wish to convey, and which colour you would like to be dominant. The chair rail itself can also be painted (just like the CO1 and CL1 in the images) and play a discrete (like in the first image) or bold (like in the second image) role in the transition from one section of the wall to the next.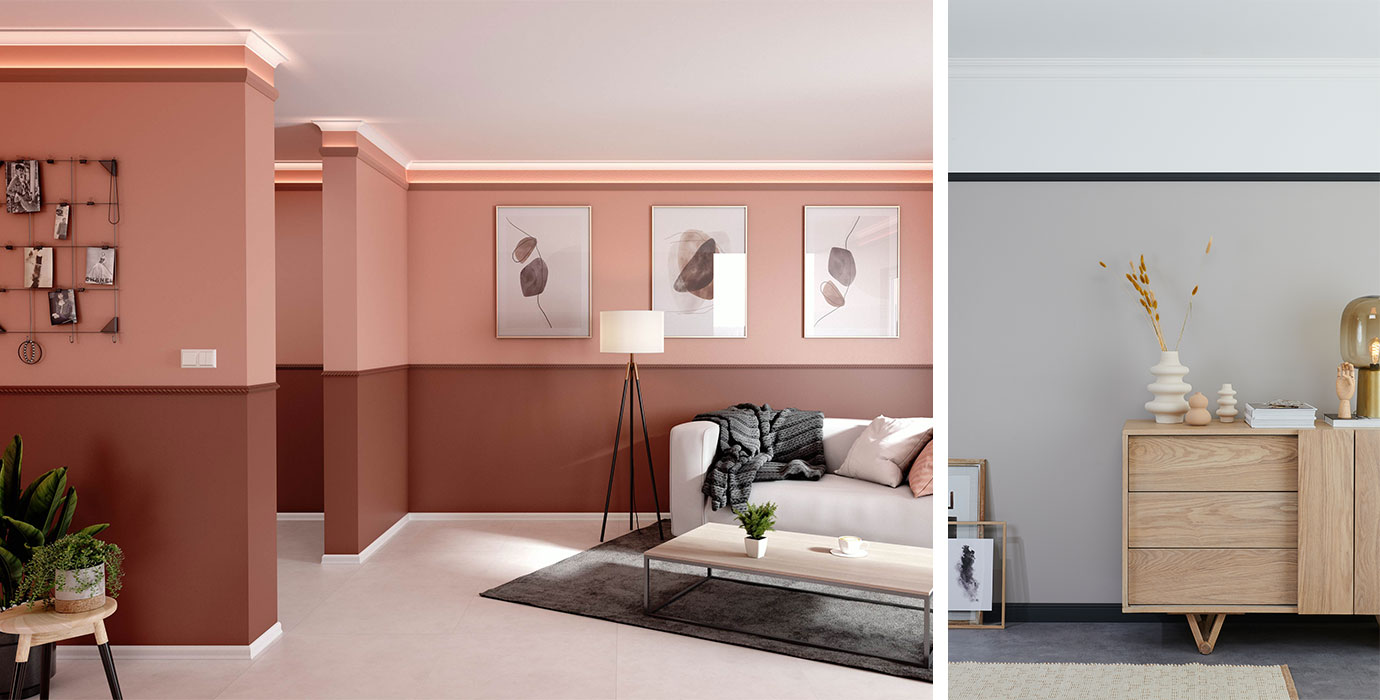 Wallpaper combo
Chair rails can perfectly complement and help smoothly integrate eccentric and colourful wallpaper, even in more modern interiors. Going for a two-section wall display divided by a chair rail with one part covered in wallpaper and the other one painted is an option but framing the wallpaper with chair rails is another great idea to create a unique feature. The sobriety of the chair rails can help put in check the strong character of bold wallpaper that can quickly feel overwhelming in modern or minimalist spaces. In this example, the vivid and lively wallpaper is nicely held in balance with the CL14. And since the CL14 is also a lighting chair rail, it can also draw focus and create surprising effects when lit in unexpected set ups such as this one.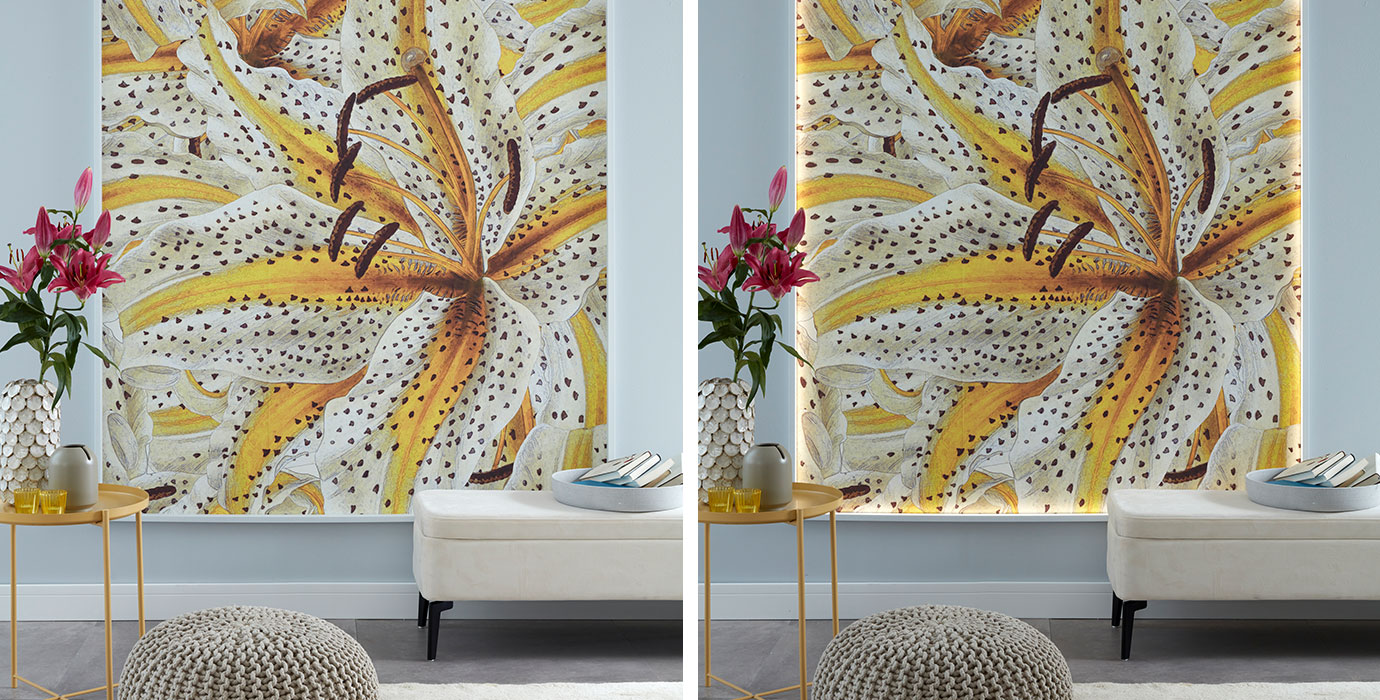 Apart from the ideas we have listed here, there are many other ways you can use chair rails to make your walls special such as coffered walls (check out our bedroom DIY project), wainscotings and more.
Associated products